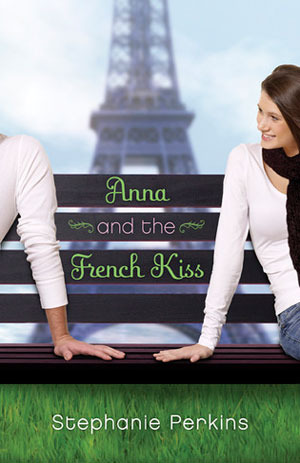 Goodreads
|
Website
|
Amazon
|
Anna is looking forward to her senior year in Atlanta, where she has a great job, a loyal best friend, and a crush on the verge of becoming more. Which is why she is less than thrilled about being shipped off to boarding school in Paris--until she meets Étienne St. Clair. Smart, charming, beautiful, Étienne has it all...including a serious girlfriend.

But in the City of Light, wishes have a way of coming true. Will a year of romantic near-misses end with their long-awaited French kiss?
(taken from goodreads.com)
~~~~~~~~~~~~~~~~~~~~~~~~~~~~~~~
Rating: 4/5 Stars
~~~~~~~~~~~~~~~~~~~~~~~~~~~~~~~
My first thoughts when reading this book were: How do I get this opportunity for my daughter? Living overseas is such an amazing opportunity. Being a child from a well off home, I could see how she would feel neglected and left alone in a foreign country. First world problems are so nice aren't they? I feel like the setting of 12th grade in high school no matter where the school is could be a turn off. I found myself almost rolling my eyes at some of the characters choices because I'm now older. That being said, I feel this book could really grab a young person and keep them engaged so this book is right for those who like this type of thing.
I was able to relate with Anna on several levels. First having lived overseas myself and totally understanding how you feel left out when life continues to happen at home without you. St. Clair is a bit annoying with not giving up his girlfriend for Anna... but that's the way love goes.
They mention food on page 87... and I will one day try a smoked salmon, ricotta, and chives. I crave this food I have never had thanks to that page. Also, later on page 290 they mentioned reading Banana Yoshimoto whom I've been meaning to read.
A favorite style from this book was how when everyone was on holiday vacation, we see that whole transaction through email between St. Clair and Anna. This was a very nice touch.
Overall I enjoyed the book and think it is something worth recommending, just not to my age group.
Favorite Lines:
~ But the most notable aspect of my new education is the one that takes place outside of class. The one never mentioned in the glossy brochures. And that is this: attending boarding school is like
living inside
a high school. I can't get away. ~ page 52
~Some people are finicky about going to the theater alone, but I'm not. Because when the lights go down, the only relationship left in the room is the one between the movie and me.~ page 119
~
Yes, St. Clair. I like you.
But I can't say it aloud, because he's my friend. And friends don't let other friends make drunken declarations and expect them to act upon them the next day.~ page 143
(I returned the book to the library before finishing this blog so there are two quotes I missed. Page 333 starting with How many times; and the bottom of page 346)