I read all three of these books before sitting down to write this review, so I will put all three in here since they blend a bit for me.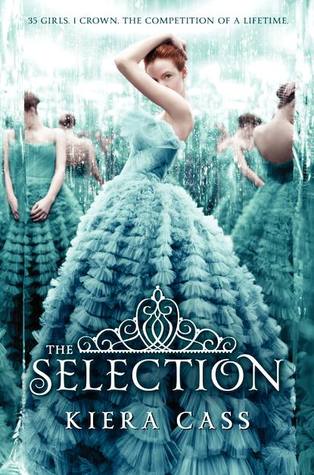 Goodreads
|
Website
|
Amazon
|
For thirty-five girls, the Selection is the chance of a lifetime. The opportunity to escape the life laid out for them since birth. To be swept up in a world of glittering gowns and priceless jewels. To live in a palace and compete for the heart of gorgeous Prince Maxon.

But for America Singer, being Selected is a nightmare. It means turning her back on her secret love with Aspen, who is a caste below her. Leaving her home to enter a fierce competition for a crown she doesn't want. Living in a palace that is constantly threatened by violent rebel attacks.

Then America meets Prince Maxon. Gradually, she starts to question all the plans she's made for herself--and realizes that the life she's always dreamed of may not compare to a future she never imagined.
(taken from goodreads.com)
~~~~~~~~~~~~~~~~~~~~~~~~~~~~~~~
Rating: 4.5/5 Stars
~~~~~~~~~~~~~~~~~~~~~~~~~~~~~~~
To start, I absolutely love the cover of this book. It's an eye grabber with a mysterious air from the arm covering the females face. I was immediately drawn into the world and by chapter two I knew what the conflict would be. America is in love but in a caste system where she would be better off marry up than down like her heart would have her do. Society is repressive and it's set in the future of America after WWIV (O.o). That's some serious stuff there. No one is allowed to have sex before getting married or they are outed from society which is said to be good for keeping diseases at bay but in reality it's to keep the castes intact.
I really wonder what their new national anthem is since they were taken over by China... something I could totally see... Let's just not think about that. The main character's name is a clue to her personality and while she does stupid things from time to time, she is genuine and true.
I truly liked the political plot arc and really hoped it would deliver later on. I could not wait to get my hands on the next book.
Favorite Line
~The sound of thirty-five pairs of heels on the marble stairs was the music of some elegant stampede.~ page 100
**********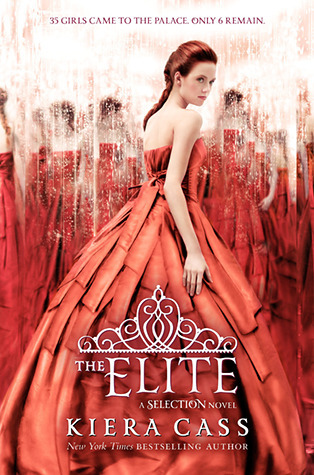 Goodreads
|
Website
|
Amazon|
The Selection began with thirty-five girls.
Now with the group narrowed down to the six Elite, the competition to win Prince Maxon's heart is fiercer than ever—and America is still struggling to decide where her heart truly lies. Is it with Maxon, who could make her life a fairy tale? Or with her first love, Aspen?

America is desperate for more time. But the rest of the Elite know exactly what they want—and America's chance to choose is about to slip away.
(taken from goodreads.com)
~~~~~~~~~~~~~~~~~~~~~~~~~~~~~~~
Rating: 4/5 Stars
~~~~~~~~~~~~~~~~~~~~~~~~~~~~~~~
Ok, so again, I love the cover. This book annoyed me though. I felt like it was very tedious to read this one but wanted to know so bad how the ending was to unravel that I gave it a higher rating than if it had been a stand alone. Stand alone it probably would have been closer to a 2-3.
America is too topsy-turvy with her feelings and she is making the stupidest decision based on someone who threw her away. She has a chance at a better life and to make a difference the way she was meant to yet she is having these secret meetings with Aspen... REALLY??? I just wanted to slap her... Especially when she keeps seeing him after one of her friends gets beat for liking a guard. I think it's a bit ridiculous that citizens are treated like strict military where their bodies are government property yada-yada. When you don't let people live freely and love freely, your reign is destined to end.
My favorite part was America meeting the Italian diplomats and getting the Princess's support. This is where I think the book really needs to go, because in order to be a fair Queen, you have to understand how to work the politics.
Goodreads| Website| Amazon|
The Selection changed America Singer's life in ways she never could have imagined. Since she entered the competition to become the next princess of Illéa, America has struggled with her feelings for her first love, Aspen—and her growing attraction to Prince Maxon. Now she's made her choice . . . and she's prepared to fight for the future she wants.

Find out who America will choose in The One, the enchanting, beautifully romantic third book in the Selection series!
(taken from goodreads.com)
~~~~~~~~~~~~~~~~~~~~~~~~~~~~~~~
Rating: 3/5 Stars
~~~~~~~~~~~~~~~~~~~~~~~~~~~~~~~
This book starts with America totally into winning Maxon but being knocked down left and right by the King. It seems to me like they make the King the typical bad guy, and he does have his hang ups, but the real antagonist is really the Southern Rebels.
I really liked that there was a whole hidden history and that the Northerners were trying to gain what seems to be the old America back while the Southerners just wanted control. I think it's a bit silly that we never hear what the demands were from the North and South... as the King and Prince, they should know what each group is lobbying for. This lack could have been foresight or intentional and I hope it was the former. Maxon seems totally taken off guard and I think it's a bit ridiculous that he's never seen his kingdom. That to me is a poor leader (more the kings fault).
I was really hoping for more of the political aspects built into this story because it because so much more than just becoming princess and queen, there are real issues at hand that can be addressed. But we only got a tease in this respect.
I loved that America set up a way for the Northern Rebels to get funding from the Italians. That was great. But really, why did America have to get shot... and how the hell was she soo calm? She did make some stupid mistakes in regards to Aspen and she seriously should have considered her actions more in this regards, particularly at the end. But that scene did not specify she was hanging all over him.
At this point we really should have shifted away from the feel of the Bachelor and more towards what really mattered.
America's dad dying felt a little bit too much, but I understand the need to get her away from Maxon. I did NOT like the ending really. I think that we should have absolutely gotten more background on how America's father was a Northern Rebel and Kriss should have been a Southern Rebel. I think that she should have been killed and not Celeste... that was just a cruel move after her character arc learned she should be good... she was seriously more of a character than Kriss was. Maxon still should have wanted to marry her, that was a bit ridiculously harsh. King and Queen dying seemed very convenient. And why did Marie just disappear? What purpose did that serve but to upset the reader?
But what really pissed me off was the damn epilogue. I really was excited for more information about how the rebels were being handled, how the Northerners were prospering, how Italy was fully backing Maxon, or even how America finds her ties to the Northern Rebels (I mean the mention of the old social studies text book was hint enough)... but we get a damn wedding and talk about Aspen and Lucy. I think Kiera tried to keep her book in the vision of what she had thought it should have been which was a love story... but that made this series which was good so sour and shallow.
I was very disappointed by the ending. I was even more disappointed to hear bad things about her two short stories The Prince and The Guard. I would rather have the political hardness's being toughed out than the shallow ending. I'm sorry Kiera... I loved the world you built, but wish you had let the story take you where it wanted to go which was not a romantic ending. I have mixed feelings about recommending this series now.