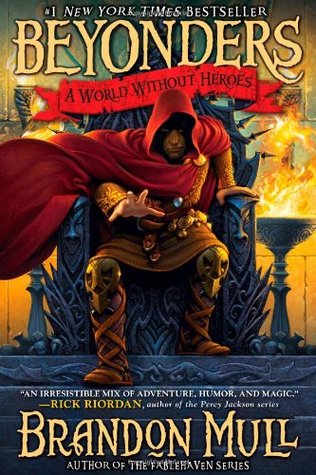 Goodreads
|
Author Website
Jason Walker has often wished his life could be a bit less predictable--until a routine day at the zoo ends with Jason suddenly transporting from the hippo tank to a place unlike anything he's ever seen. In the past, the people of Lyrian welcomed visitors from the Beyond, but attitudes have changed since the wizard emperor Maldor rose to power. The brave resistors who opposed the emperor have been bought off or broken, leaving a realm where fear and suspicion prevail.
In his search for a way home, Jason meets Rachel, who was also mysteriously drawn to Lyrian from our world. With the help of a few scattered rebels, Jason and Rachel become entangled in a quest to piece together the word of power that can destroy the emperor, and learn that their best hope to find a way home will be to save this world without heroes.
Excerpt taken from Goodreads.
~~~~~~~~~~~~~~~~~~~~~~
Rating: 5/5
~~~~~~~~~~~~~~~~~~~~~~
I jumped into this book because I absolutely love Brandon Mull for his Fablehaven series and The Candy Shop War book (I read this before he had a second one). So I wanted to read more from a favored author to show my support of his work. I have always felt that his novels end better than they start, and with the Fablehaven series, each book ended better than the previous making me want more and more.
That being said, I became apprehensive when I started this book. It started off a little bit slow for me. Then when it started picking up, it was just so different than Fablehaven, that it caught me off guard. I definitely had to warm up to this book, but once I was able to get over my hangups, I absolutely enjoyed it.
We are taken on an action packed adventure in a world we learn about as we go. Stakes are set off immediately and our main characters are thrust into a quest. The book ties up nicely at the end fully engaging you as the reader and leaving no doubt that you will head to book two.
Favorite Lines
page 326: "For each of us destiny is a blend of potential, circumstances, and choices." ~ Jasher.
I definitely recommend this book!