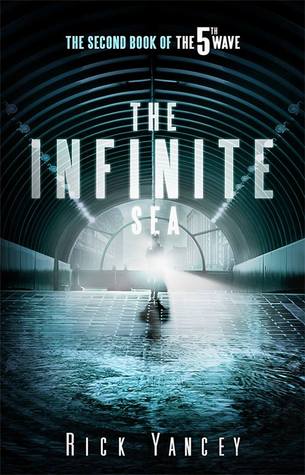 Goodreads
|
Amazon
|
Website
Surviving the first four waves was nearly impossible. Now Cassie Sullivan finds herself in a new world, a world in which the fundamental trust that binds us together is gone. As the 5th Wave rolls across the landscape, Cassie, Ben, and Ringer are forced to confront the Others' ultimate goal: the extermination of the human race.

Cassie and her friends haven't seen the depths to which the Others will sink, nor have the Others seen the heights to which humanity will rise, in the ultimate battle between life and death, hope and despair, love and hate.
(excerpt taken from goodreads.com)
~~~~~~~~~~~~~~~~~~~~~~
Rating: 5/5 Stars
~~~~~~~~~~~~~~~~~~~~~~
I have been seeing some unfavorable reviews for this book which makes me sad. I loved this book! The world is awesome and the characters developed well. One reservation I have is that many of the trilogies that I have read have started out strong and ended weak. I am hoping that this series is different though.
Starting the novel, I would have liked a little more clarification on who the speaker was... Like when Ringer was the voice, I thought it was Cassie because that's who the main character was last book. I think I would have benefited from a quick summary or such to remind me where we were picking up since it had been a while since I read the last book (like 9 months).
I think this book is misunderstood a bit because it is meant to signify how 'the enemy' is trying to divide and conquer and it kind of goes through various scenarios showing this, whether a person is by themselves or the group is thinking of splitting up. Another tactic used by 'the enemy' is sending children as suicide bombers. My guess is who we really think the enemy will change come the next book based on the ending.
There were two deaths in this book, I mean who likes characters dying... and I'm not sure if I like them, but I think I understand the need for them.
I was excited to learn more about Evan and Ringer's background as well as a few other characters. There was a constant edge-of-your-seat anticipation in this book which kept me 100% engaged. I like the idea that no man gets left behind and that friendships are meant to last... even when Cassie's little brother's friend tests this theory... something that becomes a theory of humanity. Hopelessness and despair seem to want to thrive, yet hope is what drives our characters.
Now, going off of my previous fear from past endings in books, the ending will either make or break this book for me. This is the second book which is a continuation of the plots and gives us more depth to the world and I am hoping that Mr. Yancey will give us a great ending! (Possibly one worthy of the movies!!!)
I would definitely recommend this book, but I think that recommending the first one makes people want to read it anyway. Forgive the lack of depth, first I don't want to give too much away, but second, I read this a month ago.
Favorite Lines:
~ I am more than the sum of my fear.
~The temperature of true rage is absolute zero.