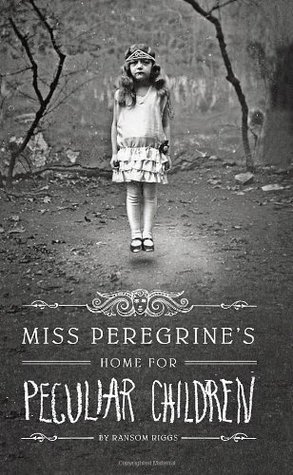 Goodreads
|
Website
|
Amazon
|
A mysterious island. An abandoned orphanage. A strange collection of very curious photographs.

It all waits to be discovered in Miss Peregrine's Home for Peculiar Children, an unforgettable novel that mixes fiction and photography in a thrilling reading experience. As our story opens, a horrific family tragedy sets sixteen-year-old Jacob journeying to a remote island off the coast of Wales, where he discovers the crumbling ruins of Miss Peregrine's Home for Peculiar Children. As Jacob explores its abandoned bedrooms and hallways, it becomes clear that the children were more than just peculiar. They may have been dangerous. They may have been quarantined on a deserted island for good reason. And somehow—impossible though it seems—they may still be alive.

A spine-tingling fantasy illustrated with haunting vintage photography, Miss Peregrine's Home for Peculiar Children will delight adults, teens, and anyone who relishes an adventure in the shadows.
(taken from goodreads.com)
~~~~~~~~~~~~~~~~~~~~~~~~~~~~~~~
Rating: 5/5 Stars
~~~~~~~~~~~~~~~~~~~~~~~~~~~~~~~
This book has absolutely captured me and I really must have the next book... like now lol. I started reading this book because my favorite YouTube personality, Kristina Horner (click her to see her page) has decided it would be her next book to read for the YA Friday interactive book club on her answerly channel (just click it and you can see what I mean). I've never done an interctive book club on YouTube before but thought, "Heck, this could be just what I'm looking for." It's not always practical to go somewhere and meet with people when life happens and you have a 3 year old and are trying to get a job and support your husband through his undergraduates... what better way to do a book club then online.
What perfect timing, because I am really glad I read this book. It's very somber (I am attempting to give a review without spoilers, but minor spoilers may come out fyi). The main character, Jake, suffers a major tragedy which throws him into this huge emotional roller coaster and eventually an adventure he marks as only the change between his BEFORE life and his AFTER life, so dramatic was this change that there is no in between. There are so many surprises and turn of events I never could have predicted which really had me. I love how I just believe this is real too, like loops just exist and I am just common.
Cool Elements
The descriptions and details are great
Adding to this is the pictures which is wonderful. I don't really think of this as a picture book so much as just aiding my imagination, helps set the tone
All the peculiar children's peculiarities

I feel like there is three major sections to this story, the first three chapters from before believing, the next three chapters when he is in his discovery, and the realization for the rest of the book.

I love the ideas about the bird/women and the loops and how they are the protectors

I really think the antagonist's story was well done, particularly how he had been around for so long and how there are more than one

And the end idea of time traveling through the loops just hooked me already for book two (thank goodness it's out)

Finally, I think Jake's decisions at the end about where he should go is a hard one but fitting
Favorite Lines
~But beyond all that, above the houses and fields and sheep doddering around like little puffs of cotton candy, I could see tongues of dense fog licking over the ridge in the distance, where this world ended and the next one began, cold, damp, and sunless.~ pg-101
~He often put on this face, an imitation of the sensible, no-nonsense dad I think he aspired to be.~ Jake page 179
~When the sun was too hot we fell back into the water, and when the chilly sea made us shiver we crawled out again, and so it went until our shadows began to lengthen across the cove. ~ Jack page 194
~I had always known the sky was full of mysteries- but not until now had I realized how full of them the earth was.~ Jake page 338
I've rated it a 5/5. The wring as spectacular and the story line and plot was well planned. I really think Ransom Riggs has a story structure I could emulate in writing. I will absolutely recommend this book to people and read the next one as soon as I can get it from the library.