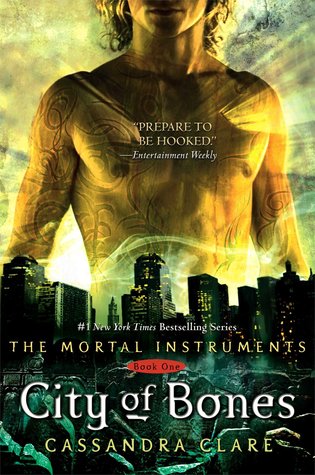 Goodreads| Author's Website
When fifteen-year-old Clary Fray heads out to the Pandemonium Club in New York City, she hardly expects to witness a murder― much less a murder committed by three teenagers covered with strange tattoos and brandishing bizarre weapons. Then the body disappears into thin air. It's hard to call the police when the murderers are invisible to everyone else and when there is nothing―not even a smear of blood―to show that a boy has died. Or was he a boy?

This is Clary's first meeting with the Shadowhunters, warriors dedicated to ridding the earth of demons. It's also her first encounter with Jace, a Shadowhunter who looks a little like an angel and acts a lot like a jerk. Within twenty-four hours Clary is pulled into Jace's world with a vengeance, when her mother disappears and Clary herself is attacked by a demon. But why would demons be interested in ordinary mundanes like Clary and her mother? And how did Clary suddenly get the Sight? The Shadowhunters would like to know...

Exotic and gritty, exhilarating and utterly gripping, Cassandra Clare's ferociously entertaining fantasy takes readers on a wild ride that they will never want to end.
Excerpt taken from Goodreads.com
~~~~~~~~~~~~~~~~~~~~~~~
Rating: 4/5
~~~~~~~~~~~~~~~~~~~~~~~


I saw that a friend of mine had only put 3 stars up for this and learned that the author used to be a big Harry Potter fan fic writer. In her past she had plagerized other writers by saying she was giving them homage which doesn't sit well with the majority of the public, myself included.
Other people disliked this book (or series) because of its similar themes to other popular fiction.
Despite these issues, I enjoyed this series. I can see the many themes that I've seen in my favorite series such as the father-son good-evil bit from Star Wars or how about the brother and sister falling in love stint, again from Star Wars.
Characters
Clary- the main character, a teenager who's life is about to take a flip
Simon- Clary's best friend who clearly has more in mind than friendship
Jocelyn- Clary's mother. Kept secrets from Clary about their past.
Luke (aka Lucian Greymark)- close family friend to Jocelyn and Clary, almost a father figure to Clary. Head lycanthrope of the local pack.
Jace Wayland-
an orphaned Shadowhunter living with the Lightwoods and Hodge at the Institute
Isabella Lightwood-
also a Shadowhunter teen, tall and beautiful
Alec Lightwood-
a Shadowhunter teen who is homosexual and jealous of Jace and Clary's relationship
Hodge Starkweather- eccentric tutor at the Institute, trapped there because of a curse the Clave put on him for past events
Hugin- Hodge's raven
Valentine Morgenstern-
A powerful Shadowhunter thought to have been dead. He returns and attempts to steal the Mortal Cup from his previous wife, Jocelyn
Brother Jeremiah- A Silent Brother who was once a Shadowhunter named Hodge Starkweather. The Silent Brothers are archivists and medics for the Nephilim. He was called upon when the block on Clary's mind would not come off.
Magnus Bane- High warlock, he is the one who puts a block on Clary's mind ever so often at her mother's behest. Flamboyantly gay, romantically interested in Alec
Raphael- head vampire of the Night Children
I want to say that a few characters really developed pretty well like Jace and Alec. Simon was annoying by the end of this book. And while Clary changed over the course of the novel, I want to say that she lacks a certain depth to make her annoying.
Theme
Better than you
Downworlder's are creatures such as vampires and werewolves. The Clave is made up of Shadowhunters which are thought to have blood of angels. Valentine is a shadowhunter who thinks that all downworlders are less and therefore need to be eliminated. This theme has been seen throughout history in the Nazi's as well as in Harry Potter with Thomas Riddle and the pure bloods verse the muggle born.
My Thoughts
We start the book as clueless as Clary and are pushed into a world that we learn about as we go with Clary. She has a tendency to annoy me a lot, just like any teen I guess. I have to give her credit, it could have been because her entire life is continually flipped upside down each chapter. Add to this, her mind has been tampered with to keep her from remembering certain things, and you have a very upsetting time for this girl. Clary doesn't act the way I would like her to... I can't tell if it's because she's a teenager or if her character depth is just lacking... I enjoy most of the other characters better.
Clary has an overprotective mother who has kept many secrets from her. This bites her mother in the butt when she is kidnapped and Clary tries to see what's wrong with her. The book from this point on is thrust into constant action from here and when Clary deals with the thing left in her apartment, she blacks out. When she awakes, she is thrust into a world that she belonged to but that her mother shielded her from. This is where she goes to the Institute and sees where Jace, Alec, and Isabella live as well as Hodge. Wanting to see if her mother is back at home, her and Jace go back to find more danger and that the tenant Madame Dorothea is more than she appears. I really liked this twist.
A portal takes them to surprisingly Luke's house/bookstore and they meet up with Simon. The last time Clary was with him, he was about to confess his love for her but she ran off to help her mother. I want to say that Simon is annoying for most of this book. Clary finds out a lot about her mother's past here as well as herself. This is where they realize that the antagonist is looking to collect the three mortal instruments and that he believes his wife, Jocelyn, is hiding the Mortal Cup. This gives Clary and Jace a direction to try and thwart Valentine.
Tons of stuff happens from here, they meet several characters including Magnus Bane. Various romances break out. Clary's memory comes back and she realizes where the her mom left the Mortal Cup.
I felt uncomfortable with how the romance with Clary and Jace switched because they are brother and sister. I'd have to say my favorite character is Luke... he's got a Lupin from Harry Potter/ Luke from Gilmore Girls feel. I was so upset about the role that Hugin took because of Hodge... I love birds so I'll leave you wondering what that is to try and avoid too many spoilers.
Favorite Lines
~ He was the youngest of these three children and had a finely honed sense of familial injustice. p19
~ The night had gotten even hotter, and running home felt like swimming as fast as she could through boiling soup. p46
~ Only people with no purpose are unhappy~ Jace p175
I do recommend this book despite being annoyed by Clary. I like the world that was created and while there are similarities between this book and other worlds, I do feel it is unique.