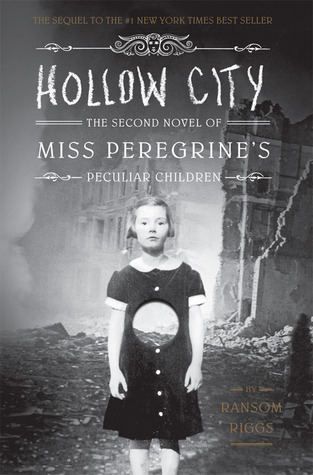 Goodreads
|
Amazon
|
Author Website
|
Miss Peregrine's Home For Peculiar Children was the surprise best seller of 2011—an unprecedented mix of YA fantasy and vintage photography that enthralled readers and critics alike.

This second novel begins in 1940, immediately after the first book ended. Having escaped Miss Peregrine's island by the skin of their teeth, Jacob and his new friends must journey to London, the peculiar capital of the world. Along the way, they encounter new allies, a menagerie of peculiar animals, and other unexpected surprises.

Complete with dozens of newly discovered (and thoroughly mesmerizing) vintage photographs, this new adventure will delight readers of all ages.
(taken from goodreads.com)
~~~~~~~~~~~~~~~~~~~~~~~~~~~~~~~
Rating: 5/5 Stars
~~~~~~~~~~~~~~~~~~~~~~~~~~~~~~~
~ I want you to enjoy this one as much as I did!
I can't believe I didn't write this review faster. I finished the book at like 2 or 3 in the am and you can ask my hubby if you don't believe me about my reaction. I literally fell back on the bed with my hand on my forehead and shouted 'Whyyyyy?' I was so not interested in the book ending when it did. I just wanted to keep on going in this interesting world that Ransom Riggs has created. I literally devoured this book.
Jacob and his peculiar friends journey through the 1940's loops in order to try and find a way to get help for not only Miss Peregrine, but also for the other ymbryne's. We see the characters develop nicely. We learned more about the 'world' that the other peculiars live in. My particular favorites were the gypsies who held an understanding for the peculiars. We are teased throughout the story about the antagonists which include the current time's Nazi's, but ultimately for them, the group of Hologasts.
There were some reviews out there that thought this book was a little slow or boring. I think those people were not really invested in the story though. The slow parts for me were filled with anticipation and anxiety, like I would imagine it was for the characters. What was going to pop out next? Everything can't always be full on action... rather the waiting for the unknown is psychologically thrilling.
The pictures really helped enrich this story and I honestly wish more authors would use pictures. I understand that a lot of the fun in reading is being able to imagine things. However, there are just some things readers aren't going to know and visual aides here and there have great effects. This book was full of plot twists that I was not expecting (although I think with well written books, I've figured out how to try and not predict things so I can enjoy it in the moment it happens)... but frankly, there was a plot twist at the end that was so well hidden, I was blown away... and then the book ended. This twist made me want to keep going because it was soooo major.
YOU MUST READ THIS SERIES... or wait until we have a release date for the third book so you're not tortured like me :P
Favorite Lines
~ Just because they knew it was lost didn't mean they knew how to let it go.~ page 21
~ "What I believe is that when it comes to big things in life , there are no accidents. Everything happens for a reason..." Emma page 46
(I had others but already returned the book to the library >.<)