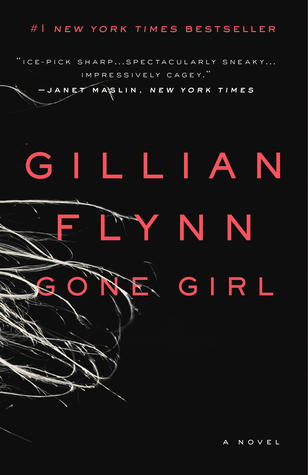 Goodreads
|
Amazon
|
Website
On a warm summer morning in North Carthage, Missouri, it is Nick and Amy Dunne's fifth wedding anniversary. Presents are being wrapped and reservations are being made when Nick's clever and beautiful wife disappears. Husband-of-the-Year Nick isn't doing himself any favors with cringe-worthy daydreams about the slope and shape of his wife's head, but passages from Amy's diary reveal the alpha-girl perfectionist could have put anyone dangerously on edge. Under mounting pressure from the police and the media—as well as Amy's fiercely doting parents—the town golden boy parades an endless series of lies, deceits, and inappropriate behavior. Nick is oddly evasive, and he's definitely bitter—but is he really a killer?
(taken from goodreads.com)
~~~~~~~~~~~~~~~~~~~~~~~~~~~~~~~
Rating: 3/5 Stars
~~~~~~~~~~~~~~~~~~~~~~~~~~~~~~~
So this book was very long. This book was a bit tedious for me. It wasn't until past 100 pages that this story actually picked up pace to keep me interested (the reason I kept going was my OCD to finish and a curiosity at how this would end).
I think that Amy was a bit over the top and I kinda feel bad for Nick because of his choice at the end. I suppose given Amy's history and how she progressively up-ed her anty so to speak... it makes sense what happens with her ex boyfriend from high school. I mean being married is tough, and everyone is going to make mistakes. This just takes it to a level so unrealistic that it's put me in a weird spot. When I think if I like this book or not, it leans more to the 'No'... but sometimes I think it's ok because of the writer in me.
There was definitely twists in this story I didn't anticipate and it was well written, but the ending was so anticlimactic and annoying. Now I can say I read it... I won't recommend this book, but I will probably see the movie out of curiosity.
Sorry if this post left you feeling weird... that's what this book did to me.