I have a bookish kind of compulsion. An addiction really. Books are my best friends and helped me through some of the roughest times in my life. Let's face it, there are those who loved high school and had a great experience, and then there are those of us who would have given anything to warp into the books we were reading rather than go to school. I think reading books is the one addiction that parents want their children to have without bringing them to a psychiatrist. I mean because where else can you help your child learn to cope the best with real life issues besides a book. All of the advise with the pain at a distance. It could cost you money or you could go to the library.
My relationship with books is probably one of the best relationships I have. Yes I called it a relationship. We were introduced at a young age and throughout the years my taste in books has aged like fine wine. I became obsessed with fantasy in 3rd grade. The Lion, the Witch, and the Wardrobe by C.S. Lewis
changed my little literary life. No longer did I have to read those boring 12 page books that lacked essence, now I was moving into the big leagues. Let's not forget The Scary Stories by Alvin Schwartz and Pippy Longstocking by Astrid Lindgren.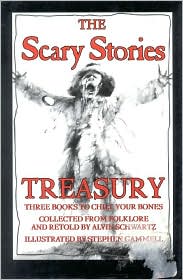 My bookish relationship has evolved over the years and the amazing thing is I have always had
somewhere I can turn to feel fulfilled. For a long time, aka most of high school, I was only interested in fantasy. While I look back and can say I
enjoyed reading To Kill a Mocking Bird by Harper Lee; Virginia Woolf's To the Lighthouse; West Side Story by Arthur Laurent; Pigman by Paul Zindel; Of Mice and Men and The Pearl by John Steinbeck; and A Streetcar Named Desire by Tennessee Williams; and many more, I don't think I always was able to appreciated the literature because I was a rebellious teen and HAD to read it. What teenager going through rebellion, bodily changes, finding themselves, dealing with 'friends' in school, really wants to be told what to do. So what I did was read my favorite books while in math class under the desk (which really made the teacher mad but I always answered his question right and got hundreds on the tests on Fridays) and all through the night.
One of my favorite author being Katherine Kerr and the Deverry Series that my brother bought for me when I was a freshman... he bought me the second book in her long series of what turned into a 15 book series written over 23 years.
http://www.deverry.com/deverrybib.html
So I had to buy the first book to see what was going on lol. I devoured this series and have been a faithful reader over the years waiting for each
installment. I have even bought the first book 2 more times because I've lent it out and never received a copy back. I will be buying it again so I can re-read these books from beginning to end. The length of time I've spent between books has made my mind fuzzy on some of the components I want to remember so a massive re-read is due. My other favorite author during high school was Mercedes Lackey with the Valdemar Series. She is one of the few authors who actually puts knowledge of birds to great use.
In college I was an English minor, not by choice because I wanted to minor in science for my
teaching degree, but I loved the switch so much that I realized I wished I had learned secondary education to teach English rather than primary. So my relationship with literature took on a primarily professional relationship. I was introduced to the world of Shakespeare (more so than in high school), short stories of all kinds, literary critique, medieval literature, modern poetry, Chaucer (which I read in middle English), and more recently an entire course on J. R. R. Tolkien: Myth and Middle-earth in Context.
In my 20's (goodness that just sounds so horrible to say haha), I decided to veer my personal reading towards more than just fantasy. I think I went towards chic-lit the most and I really like YA. This may be because I like to keep current with literature for the middle grades which I hope to land a teaching job in soon.There have been so many books that were well written or great stories, that one simply can't name them all in one paragraph.
More recently I've been able to start my true passion, that of trying to join the ranks of writers. My Masters is completed and not fully draining my time and all the feedback from my peers in my writing group have been great. But I really just need to make it a habit of writing everyday, which I am striving to do, right here. I've finally come up with an idea that many already have thought of, to blog about the books I love or hate and to share my thoughts with you. I already do the book challenge on goodreads, and I will finally be able to share my ideas with other book people.
And now to you,
Without further ado
I bring to you review, after review, after review
Have a bookishly delicious day!